Latest News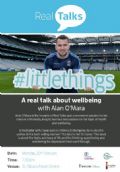 A Real Talk about Well Being
8th February 2017
Alan O'Mara is the founder of Real Talks and a renowned speaker for his mixture of honesty, insight, humour and passion on the topic of health and well-being.
A Footballer with Cavan and Ulster 21 Champion, he is also the author of the best selling memoir "The Best Is Yet to Come". The book is about the highs and lows of life and the thinking, questioning and wondering his depressed mind went through.
Alan will be providing a talk in St. Olcans Parish Centre on Monday 20th February at 7.30pm.
Comments