Latest News

Healthy Club Press Release & Photo
10th November 2017
St Mary's GAC, Rasharkin and St Joseph's GAC, Glenavy amongst the first official GAA Healthy Clubs to receive national recognition

• The award winning Healthy Clubs Project (HCP) aims to turn clubs into hubs for health in their communities
• With almost the same number of GAA clubs as GPs across Ireland, the project offers a new setting in which to deliver health promotion and interventions
• Leading GAA ambassador Seán Cavanagh strongly commends the club for their leadership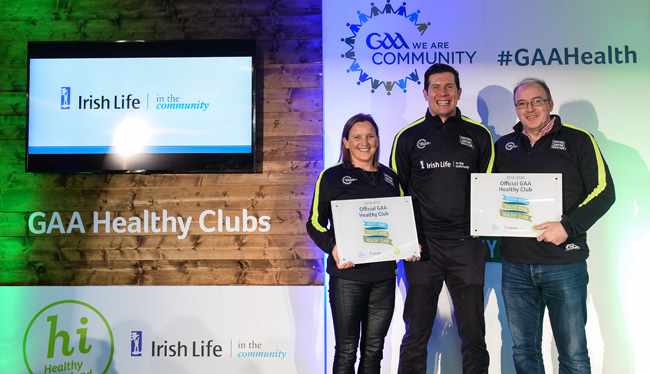 A special ceremony with governmental representation in Croke Park today saw 58 GAA clubs recognised as the first official 'Healthy Clubs' on the island of Ireland.

Two Antrim GAA clubs, St Mary's GAC, Rasharkin and St Joseph's GAC, Glenavy can now proudly fly a flag above their grounds (endorsed by both Healthy Ireland and the Public Health Agency in NI), letting their members and communities know that they value health and wellbeing as much as leagues and championships.

In January 2016, almost 100 clubs applied to participate in Phase 2 of the project (just 16 participated in Phase 1 between 2013-2015). Many cited the dearth of services in their communities that are tackling issues such as obesity, sedentary lifestyles, mental health and suicide. They wanted to be part of the solution.

Clubs engage with their members and community before identifying health themes upon which to focus on. Most common include healthy eating; physical activity for non-playing members; emotional wellbeing; engaging older members of the community; youth development; smoke free clubs; gambling, drug, and alcohol education; and inclusion and integration.

These two progressive GAA clubs are the first in Antrim to receive national recognition. Their various health and wellbeing initiatives have had a tremendous impact on their clubs and wider communities. St Mary's GAC, Rasharkin have organised the 'Supporting Guide Dogs for the Blind' initiative over the last two years which involves a 55km walk from Rasharkin to the Giants Causeway in support of Guide Dogs for the Blind. This outstanding community initiative began after local resident Brian Doherty - the father of two club players, was diagnosed with Retinitis pigmentosa, a degenerative eye disease which left him with only 10 percent vision. The sponsored walk ran to great success in the community, and the HCP team are committed to ensuring that no one in their community goes without support when it is needed.

St Joseph's GAC, Glenavy made history earlier in the year when they launched their complete smoke free policy, the first of its kind in Antrim. The club is the picture of health decorated with smoke free signage which was provided by the Public Health Agency and the GAA (through a CSR partnership with Irish Life). One of their most exciting community initiatives is "Glenavy's Biggest Loser", an 8 week physical activity programme. Starting in 2015 the club ran a variety of exercise classes twice weekly, held weekly weighs-ins and nutritional talks. Over the course of the initiative, 55 participants completed the eight week programme and lost 503lbs in total, with the highest individual weight loss of approximately 2 stone.

Former Tyrone football captain Seán Cavanagh is a big supporter of the GAA's Healthy Club Project (HCP) and presented the clubs with their official flag and plaque in Croke Park on Saturday, November 4th. He said "I've seen myself how the GAA brings communities together in so many different ways so it's fantastic to see the association taking a leadership role in developing healthier communities. The Healthy Clubs around the country are having a positive impact on so many children and young people and as a parent I think it is fantastic. Through this project I think people will start to appreciate the role of the GAA in our communities even more."
The innovative Healthy Club model was developed in partnership with Healthy Ireland, the HSE's health promotion division, the National Office for Suicide Prevention, and is supported by Irish Life through a CSR investment. In an era of unprecedented societal health challenges, the Healthy Club Project aims to harness the potential of the GAA club setting to deliver evidence-based health promotion information and interventions, backed up by appropriate policies and partnerships. Its potential to be replicated by other sports is currently being explored by a working group involving the FAI, IRFU, and Athletics Ireland.

Similar work is being undertaken across European sports associations, and for the past three years the GAA has contributed its learnings to the EU-wide Sports Clubs for Health project. This culminated with the GAA's Community & Health manager, Colin Regan, presenting on the Healthy Club project to a sub-committee of the EU Parliament in Brussels in April.

The Healthy Clubs project is being independently evaluated by a team from Waterford IT's Centre for Health Behaviour Research. While the final report into Phase 2 won't be available until December, the research team have already noted significant successes (see editor's notes for examples of successful interventions).

Aogán Ó Fearghail, An Uachtarán Cumann Luthchleas Gael said, "The 58 Healthy Clubs recognised today have gone above and beyond what is normally expected of a sports club. Health and wellbeing is core to what the GAA is all about and these clubs help bring that to life. I'd like to thank our partners, Healthy Ireland, the HSE, National Office for Suicide Prevention, the Public Health Agency, and Irish Life, for helping to make the Healthy Club project the success it is. We look forward to growing it from strength to strength."

Recognising the achievements of the clubs in Croke Park at the Healthy Club Recognition Event is Catherine Byrne, Minister of State for Health Promotion and the National Drugs Strategy, Department of Health (ROI). She said, "Today is all about recognition for the clubs and the volunteers who make this happen at club level. I would like to congratulate all of the clubs and volunteers involved and acknowledge the contribution that they are all making to bring the vision for Healthy Ireland to life: where everyone can enjoy physical and mental health and wellbeing to their full potential"
David Harney, CEO, Irish Life said, "Irish Life are delighted to work with the GAA on the Healthy Club initiative. The GAA, reaches into every community on the island of Ireland, and has a significant role to play in the health of the nation through its promotion of Gaelic Games. The association's Healthy Club initiative brings a new dimension to this work. It enables people to access health in an exciting new way. We believe this work has the potential to improve the future health of communities across the country."

There are numerous benefits to clubs that take part in the GAA HCP including exclusive access to Healthy Club resources and support. The independent evaluation by Waterford IT's Centre for Health Behaviour Research of Phase 1 of the HCP revealed its potential to increase membership, improvements in health promoting activities, better opportunity to link the local community with club activities and opening up new funding avenues all the while enhancing the health of the nation and ensuring a healthier future for everyone.

The GAA hope to extend the project to 150 clubs in Phase 3 (with expressions of interest to open in early 2018) before opening the project to all interested clubs in 2020. There are 1,600 clubs in Ireland and over 400 abroad.
For more information, visit: www.gaa.ie/community

Follow: @officialgaa or Like: www.facebook.com/officialgaa/ #gaahealth

For more information or to request an interview please contact:
Wilson Hartnell:
Emma Walsh, Tel: 0873170897 or E: emma.walsh@ogilvy.com
Amber Brown, Tel: 087 779 9719 or E: amber.brown@ogilvy.com
St Mary's GAA Club, Rasharkin, Co. Antrim Case Study
'Supporting Guide Dogs for the Blind'

One of the main aims for the Healthy Club project team in St Mary's GAA Club, Rasharkin is providing physical activity programmes to encourage community participation and inclusion. One of their best supported community events was the 55km walk from Rasharkin to the Giants Causeway in support of Guide Dogs for the Blind.
The club decided to support this worthy cause after Brian Doherty, father of two club players, was diagnosed with Retinitis pigmentosa, a degenerative eye disease which left him with only 10 % vision. This life- changing diagnosis resulted in Brian having to give up his career and driving the car, two of the things he enjoyed the most. Brian battled with depression for years, struggling to accept his condition but in 2016 he decided he wanted to fundraise for Blind Dogs NI with a sponsored walk. Brian admitted that he didn't know how to go about involving others from the local community and although both his children played for St Mary's Rasharkin he did not feel part of the club as he had nothing to offer nor to gain.
Brian heard that the club were involved in the GAA's Healthy Club initiative and decided to get in touch with the Club Health and Wellbeing Officer, Terry Hasson. Brian soon felt comfortable reaching out the club and extended community with the help and support he received from the club.
"What started out as a one man band became one of the best supported events in the club"

On the 10th of July Brian embarked on his 55km challenge with his son Tiernan by his side, taking in some of the toughest terrain in Co. Antrim. Fifteen hours later Brian crossed the finish line with his twins, Tiernan and Mairead (19), while being cheered on from his wife, Corinne. Brian was absolutely humbled and privileged by the kind support from the club and the community and revealed that "he was the proudest man on earth". Brian is now a dedicated member of the Healthy Club project team and says "I now know what it feels like to belong to the GAA family and more importantly I know what a community is all about". Brian and the Healthy Cub project team are committed to ensuring that no one in their community goes without support when it is needed.

St Joseph's GAC, Glenavy, Co. Antrim Case Study
'Glenavy's Biggest Loser'

Glenavy's Biggest Loser is an 8-week physical activity program open to everyone in the community. It started out in 2015 and based on the demand and success of the initiative Glenavy have continued to roll out the programme.

The twice weekly exercise classes ranged from circuits, yoga, spinning, boxercise, crossfit, ceili dancing, kettle bells, netball and badminton, making it inclusive for all ages, genders and abilities. The participants were supported with weekly weighs and nutritional talks/workshops with the option of blood pressure checks. During the consultation phase participants reported that the number one reason for getting involved was to lose weight.

Fifty five participants completed the 8 week programme and were aged between 18 and 60+, both male & female and from a range of cultural identity backgrounds. Prior to commencing the programme 70% of participants said they didn't exercise regularly due to health or medical problems (including Asthma & high blood pressure), a general lack of fitness, lack of organised suitable activities locally and lack of recreational spaces available in Glenavy village.

The total weight loss was 503lbs with the highest loss approx. 2 stone. At the end of the programme participants were asked to rank, in order of preference, what they found to have been the most valuable aspect of it. The top ranked answer was Social & Community Interaction, followed by Organised Exercise Programme, Opportunity to Improve Fitness and The Craic, all of which were rated more highly than their original priority of To Lose Weight! The majority of participants stated that they would be keen to participate in future programmes and that they would encourage others to do so.

Comments