Latest News

GAA 125 - School Art Competition
20th May 2009
125 Art Competition in conjunction with our Primary School
This was a major success, with budding young artists pouring their ideas onto paper.
What does St. Marys GAC and 125 years of the GAA mean to you was the brief.
182 entries, all pupils in the school, put pen to paper. Encouraged by teachers, helpers and parents a vast array of thoughts and feelings took shape on paper. With so much talent on show it was only right to call in top judges. Two men were entrusted with this task.

Mr Tommy Mc Goldrick a local artist of international fame, a man with huge talent who has sold paintings across the globe, the other Mr Terry Hasson an artist of totally different nature, but a keen art lover nun the less.

The standard of entries were high and tough decisions were going to be made. As you all know beauty is in the eye of the beholder. The judges looked over the drawings and after several viewings the 1st placed boy and girl from each class was decided.
Class
1st Boy
1st Girl
Overall Winner

P1
Oran Mc Mullan
Orlagh Convery
P2
Rioahan Quinn Maria
Rebecca Mc Keown
P2
Callum Quinn
Mairead Hasson
P3
Rory Kelly
Grace Mc Neill
P4
Daniel Mc Gurk
Fionnula Donaghy
Fionnula Donaghy
P5
Bartek Kendzierski
Cliodhna Mc Coy
P6
Cathair Mooney
Maria Mc Larnon
Cathair Mooney
P7
Cillian Mc Mullan
Mairead Doherty
On the 20th May at the school all entries received a certificate to show the Clubs appreciation for their efforts. The 1st placed boys and girls received an A4 certificate with their painting on it and the over all boy and girl were delighted to take home along with their certificate a specially commissioned Rasharkin 125 medal something to treasure.
Similar to the ones shown below: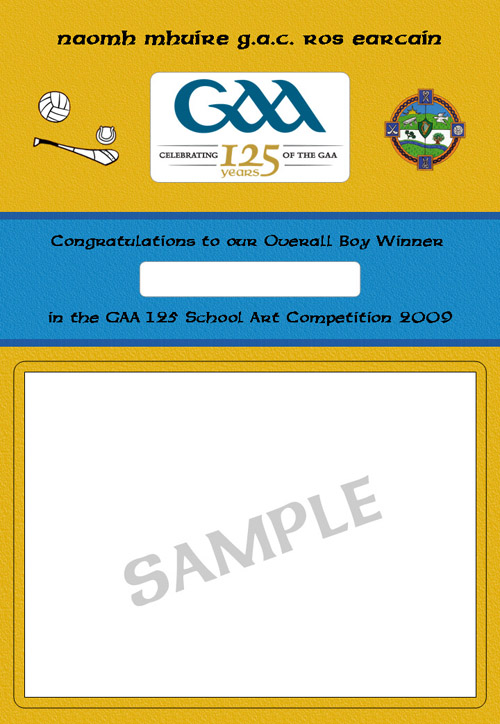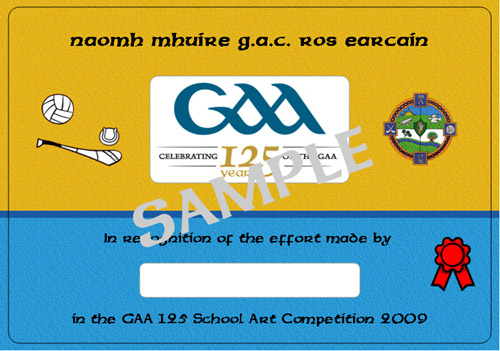 Many thanks to Mr Mc Cann, all the teacher and assistants at the school, Damien and Lorraine Mc Ferran, Ciarán Hasson, Tommy Mc Goldrick and Terry Hasson and anyone who helped in any way with this wonderful competition.
Comments